Synchronization and Observability in Power-Grid Networks
A key requirement for the functioning of a power-grid network is that its power generators remain synchronized. In our recent Nature Physics paper, we derive a condition under which the desired synchronous state of a power grid is stable, and use this condition to identify tunable parameters of the generators that can affect synchronization. A complementary problem concerns the comprehensive determination of the state of the system from limited measurements. In our most recent PRL paper, we show that this problem leads to a new type of percolation transition — a network observability transition. We also demonstrate a dual role of the network's community structure, which both facilitates optimal measurement placement and renders the networks substantially more sensitive to "observability attacks." These findings may be used to optimize stability and robustness and help devise new control schemes, contributing to the development of smart, self-healing power grids.
P&A Complex Systems Seminars
Visual Analytics Software to Resolve Network Structure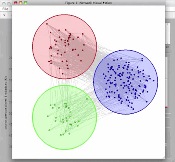 The visual pattern recognition ability of humans combined with the high processing speed of computers leads to a visual analytics approach for discovering network structure (including but not limited to network communities). The approach resolves the internal structure of complex networks by organizing the nodes into groups that share something in common, even if we do not know a priori what that thing is. At first this may sound a little like the Deep Thought's "answer to the ultimate question of life, the universe, and everything" in Douglas Adams' fiction comedy series, except that in this case we can actually identify the question itself. The core concept was introduced in our Scientific Reports paper and has been used to create a Matlab-based Software.
A first-generation version of the software is available here and a version with full functionality will be available soon.
This is of course only the very tip of the iceberg. We are currently engaged in developing similar exploratory approaches that can also systematically account for dynamical behavior.
For another interesting exploratory approach, we recommend the Newman & Leicht's 2007 PNAS paper.
Mechanical Networks and Negative Compressibility Materials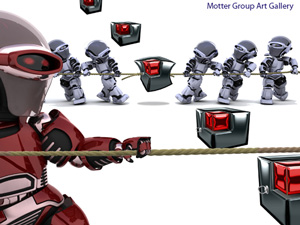 When tensioned, ordinary materials expand along the direction of the applied force. In our recent Nature Materials paper, we explore network concepts to design metamaterials exhibiting negative compressibility transitions, during which a material undergoes contraction when tensioned (or expansion when pressured). Continuous contraction of a material in the same direction of an applied tension is inherently unstable. The conceptually similar effect we demonstrate can be achieved, however, through destabilizations of (meta)stable equilibria of the constituents. These destabilizations give rise to a stress-induced solid-solid phase transition associated with a twisted hysteresis curve for the stress-strain relationship. We suggest that the proposed materials could be useful for the design of actuators, force amplifiers, micromechanical controls, and protective devices.
Movie: Simulated response of the material to uniform, diagonal, pinched, and splayed stress profiles.
Recent Publications
J. Sun and A.E. Motter,
Controllability transition and nonlocality in network control,
Phys. Rev. Lett. 110, 208701 (2013).
doi: 10.1103/PhysRevLett.110.208701
A.E. Motter, S.A. Myers, M. Anghel, and T. Nishikawa,
Spontaneous synchrony in power-grid networks,
Nature Physics 9, 191 (2013).
arXiv:1302.1914 - doi:10.1038/nphys2535 - Supplementary Information
Y. Yang, J. Wang, and A. E. Motter,
Network observability transitions,
Phys. Rev. Lett. 109, 258701 (2012).
arXiv:1301.5916 - doi:10.1103/PhysRevLett.109.258701 - Supplementary Information
Z.G. Nicolaou and A.E. Motter,
Mechanical metamaterials with negative compressibility transitions,
Nature Materials 11, 608 (2012).
arXiv:1207.2185 - doi:10.1038/nmat3331 - Supplementary Information - Movie
S.P. Cornelius, J.S. Lee, and A.E. Motter,
Dispensability of Escherichia coli's latent pathways,
Proc. Natl. Acad. Sci. USA 108, 3124 (2011).
arXiv:1103.5176v1 - doi:10.1073/pnas.1009772108 - Supplementary Information
B. Ravoori, A.B. Cohen, J. Sun, A.E. Motter, T.E. Murphy, and R. Roy,
Robustness of optimal synchronization in real networks,
Phys. Rev. Lett. 107, 034102 (2011).
arXiv:1106.3994v1 - doi:10.1103/PhysRevLett.107.034102 - Supplementary Information
S. Sahasrabudhe and A.E. Motter,
Rescuing ecosystems from extinction cascades through compensatory perturbations,
Nature Communications 2, 170 (2011).
arXiv:1103.1653v1 - doi:10.1038/ncomms1163 - PDF - Supplementary Information
Group News
March 2013: Sascha Herrmann is awarded NSF Graduate Research Fellowship.
December 2012: Motter and Albert's paper was the most read subscription-only Physics Today item in 2012.
December 2012: Daniel Wells receives Chicago Biomedical Consortium (CBC) Scholar Award.
June 2012: Joo Sang Lee is awarded a PSOC Young Investigators Grant.
April 2012: Joo Sang Lee receives SIAM Student Chapter Certificate of Recognition.
April 2011: Thomas Wytock and Danny Wells are awarded NSF Graduate Research Fellowships.
March 2011: Adilson E. Motter receives NSF CAREER Award.
March 2011: Sascha Herrmann is awarded Goldwater Fellowship.
Selected Press
Stabilizing the Electric Grid by
Keeping Generators in Sync
Ars Technica (March 13, 2013)
http://...
Better Power Grid Synchronization
May Enable Smart Grids to
Self-recover from Failures
Phys.org (February 22, 2013)
http://...
Niche as a Determinant of Word
Fate in Online Groups
Replicated Typo (October 3, 2012)
http://...
Mystifying Materials
NU Press Release (May 23, 2012)
http://...
Model Could Help Predict and
Prevent Future Extinctions
NSF (January 25, 2011)
http://...
Oust Species to Save Ecosystems
Nature News (January 25, 2011)
http://...
see also Nature's Feb 3 Issue.
Chaos: Absolute or Relative?
NU Press Release (September 7,
2010)
http://...
A Delicate Balance: New Study
Shows How Networks Keep
Themselves in Synch
NU Press Release (May 24, 2010)
http://...
Some Covers